Become An ECG Expert!
The ECG Academy® will quickly teach you how to expertly interpret an electrocardiogram (ECG / EKG) at your own pace, without any reading! Just watch videos – it couldn't be easier! Excellent for beginners or for experienced ECG readers who want to improve their skills at analyzing complex tracings. Plus, we now offer "CERTIFICATE COURSES" for Continuing Education Credits!
Easy to understand video lessons in ECG interpretation
(We SHOW you how so you don't have to read a textbook)
Step by step instruction from basic to advanced
Learn from a physician specialist / electrophysiologist
Weekly practice "ChalkTalk" sessions (see sample below!)
Affordable monthly access rates as low as $7.95.
Earn Continuing Education Credits (CEU,CME) Click Here!
ECG training solutions, courses, and inservices custom designed for hospitals, schools, and industry
ECG ACADEMY NOW OFFERS MORE FOR LESS!
ECG Academy Basic and Intermediate membership plans now include access to Archived ChalkTalks! ChalkTalks are 5-6 minute "how to" video tutorials based on a single rhythm strip or ECG, and are unique to ECG Academy. That means you'll get up to eight additional hours of content for the same monthly rate. You'll be able to search for different levels of difficulty and even for different topics. Also, the cost of a ChalkTalk subscription has been reduced. Finally, Certificate Courses now give you unlimited access for up to 4 months with no additional fees. These major upgrades are part of our promise to deliver the world's best ECG training at an affordable price.
Read more about how ECG Academy Works....
Embed Video by VideoLightBox.com v1.11m
Click To View An
ECG Academy

"ChalkTalk"
Check Your ECG Knowledge...
News Items:
ECG Academy was an exhibitor at the Association for Nursing Professional Development in Orlando, FL on July 16-18, 2014. It was wonderful meeting all the nursing educators who came by the exhibit to learn about hospital-wide online training provided by ECG Academy!
The creator of ECG Academy, Dr. Nicholas Tullo, is the honored recipient of the Harvey Nussbaum Golden Apple Award in recognition of his years of Dedication, Scholarship, and Commitment to the Education of Medical Residents in the Department of Medicine at St. Barnabas Medical Center in Livingston, NJ.
ECG Academy has been selected by the faculty at University of South Florida College of Nursing to provide online ECG training as a required prerequisite for their advanced students. We design custom online training programs for undergrad and graduate RN and NP programs. Contact us at sales@ecgacademy.com for more information.
ECG Academy was an exhibitor at the Pennsylvania Coalition for Nurse Practitioners in Lancaster, MA on November 8-9, 2013. Thanks to all the NPs who came and visited the table!
ECG Academy is now being used by the Hospital For Special Care in New Britain, CT, to inservice all of their LTAC nurses. Contact us to see how we can design a custom online training program to positively affect patient outcomes by improving the ECG-reading proficiency of nurses and techs at your institution.
ECG Academy was an exhibitor at the ANCC National Magnet Conference in Orlando, FL on October 2-4, 2013. It was a great convention. Thanks to all who came and visited the booth!
ECG Academy is now being used by the Family Nurse Practitioner students at Southern Connecticut State University to learn to read 12-lead ECGs. Custom solutions such as this one are available to schools, hospitals, and corporations who want to provide the best online ECG training program for their students / employees.
ECG Academy was an exhibitor at the National League for Nursing Education Summit in Washington, DC, on September 18-20, 2013. Many thanks to all the nursing educators who stopped by to learn about our ECG training programs for schools, hospitals, and corporations.
ECG Academy is now approved by the American Association of Nurse Practitioners to award up to 20 CE contact hours for the Certificate Course in ECG Interpretation! Nurse Practitioners can now fulfill their CE requirements and Become an ECG Expert, too!
ECG Academy was an exhibitor at the Connecticut League for Nursing Nursing Leadership Convention on Friday, June 7th at St. Clements Castle in Portland, CT.
ECG Academy received glowing reviews for an ALL-DAY Advanced ECG Workshop presented to the staff at Medicomp Inc., a cardiac monitoring service in Melbourne, FL. If you would like information about how ECG Academy can turn your staff into ECG Experts, please email us.
What are other websites saying?
" Dr. Nick is a master educator with an easy manner and friendly sense of humour, as well as a true ECG expert. .....you can't beat the ECGAcademy.com for quality ECG education."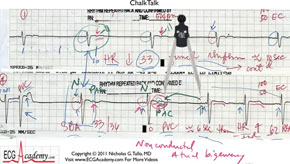 Learn how to approach more difficult tracings with our weekly ChalkTalks made especially for ECG Academy subscribers.
Please note that the Advanced level will not be available until end of 2014.
For Problems or Comments, please contact
ECG Academy Support
.
Please see
Website Disclaimer
for additional information.