ECG Academy is utilized by top hospitals and universities across the U.S.
Taught by an award-winning educator and practicing Cardiac Electrophysiologist, Dr. Nick Tullo, the ECG Academy Learning System has provided state of the art EKG training to students from...
---
---
---
Ready to Join The ECG Movement? Here's How To Choose A Course:
First question: Do you need accredited CE/CMEs? If you need CE/CMEs, choose a Certificate Course.
If you don't want to have quizzes to take and want to most affordable option to just watch the video lessons and ChalkTalks, choose a Monthly or Annual Membership Plan.
---
Look at ECGs in a Whole New Light
t

he physiologic approach to EKG training provided by the ECG Academy Learning System provides you with the tools to interpret complex tracings. Whether you are a beginner or an experienced reader, you can become a resource at your hospital, office or school. Open new doors in your career by becoming an ECG Expert! Become the "Go To" person at work. You can even start a new career as a Telemetry Tech and step right into a high paying position!
Watch the videos and practical "ChalkTalk" videos on any device at any time. Access is provided through a monthly or annual subscription, and you can cancel at any time.
Start Your Subscription NOW
Try ECG Academy Now For FREE!
You can have a FREE Introductory Membership so you can check out the videos for yourself! There are three hours of video tutorials included in this offer. You'll learn how ECG machines work, how to attach a patient, and how to measure basic ECG intervals. We also cover the anatomy and physiology of the heart and the cardiac conduction system. It provides a preview of the entire course.
Subscribe Now To The FREE Introductory Membership
Professional Review
Dr. Nick is a master educator with an easy manner
and friendly sense of humour, as well as a true ECG expert.
You can't beat the ECGAcademy.com for quality ECG education.

LifeInTheFastLane.com
Starting December 2023 — Monthly...
ECG MASTERCLASSES
W

hat is missing from every online course on the internet? LIVE INTERACTION with the Professor. Now introducing Dr. Nick's ECG Masterclass. These are live presentations of Clinical ECG topics (many are case presentations) that will be perfect for intermediate and advanced users who want to be able to ask questions during and after the discussion.
Participants will be able to bring unknown tracings to the session for the entire group to discuss. Click on the video player at right to learn more. Then click on the link below the video to let us know that you would like get an email when they start up.
Click here for more info about Masterclasses
How much do you REALLY know about ECGs...?
Take Our BRAND NEW Free ECG Quiz! It's based on the content that is taught in the course.
You will receive FREE coaching videos after the test.

---

TAKE THE QUIZ NOW
---
World Class ECG Training
---
Free Introductory Level
You can register for the FREE Introductory Level, which includes 3 hours of video lessons and ChalkTalks to you get started. It includes anatomy, physiology, ECG basics and interval (PR, QRS, QT) measurements
Comprehensive Training
The Level 1 Course shows you how to analyze cardiac rhythm strips, including basic and advanced arrhythmias. The Level 2 Course teaches you everything you need to read a 12-lead electrocardiogram
Expert Topics
If you are experienced, subscribe to our Expert membership level for access to unique advanced video discussions, 40-minute arrhythmia workshops, and access to over 550 challenging ChalkTalks!
---
Subscription Pricing for All Levels of Expertise
---
ChalkTalks Only
$4.95

/month
$40 per year
Six-Minute Practical "How To" Coaching Sessions Based On An Unknown Tracing
For Beginners and Experienced Readers: Medical Students, Residents, Fellows, RNs, NPs, PAs, EMTs/Paramedics and Practicing MDs
Provides Access to 8-10 Of The Most Recent ChalkTalks With One New Release Every Week
Basic Level
$9.95

/month
$100 per year
30+ Hours of Content
135+ ChalkTalks
Learn Complex Rhythm Strips
(Level 1)
Telemetry RNs and Techs, Cath Lab/EP Lab Staff, Nursing Students
Weekly ChalkTalks

Advanced Level
$14.95

/month
Only $125 per year
40+ Hours of Content
225+ ChalkTalks
Learn 12-Lead ECG
(Levels 1+2)
Medical Students, Residents, NPs, PAs, Cardiac Nurse Specialists, EMTs/Paramedics
Weekly ChalkTalks

Expert Level
$17.95

/month
Only $150 per year
70+ Hours and Growing
Over 550 ChalkTalks!
Expert Arrhythmia Topics
(Levels 1+2+3)
Medical Residents, Cardiology/EP Fellows, Practicing MDs
Weekly ChalkTalks
Clinical LiveStreams
---
Accredited CE/CME Certificate Courses
Newly UPGRADED for 2023
One time cost... No more monthly fees.
CEs and CMEs available for RNs, NPs, PAs, and Telemetry/ECG Techs
---
Certificate Level 1 – New For 2023
For NPs, PAs, RNs, Techs and Students
$197


With One Year Unlimited Access
Provides 14 CE/CME Contact Hours
Covers Anatomy, Physiology, Conduction System Function, Basic Rhythms and Complex Rhythm Strip Analysis, Pacemakers and More
Advanced Rhythm Strip Training
Telemetry Certification

135+ ChalkTalks Included
New Weekly ChalkTalks
No Prior Experience Needed
Most Comprehensive Course Available!
Certificate Level 1+2 – New For 2023
For NPs, PAs, RNs, Advanced Students
$347


With One Year Unlimited Access
Provides up to 24 CME/CE Contact Hours
Level 1 Plus 12-Lead Topics: Axis, Hypertrophy, Bundle Branch Blocks, Hemiblocks, Ischemia and Infarction and More
12-Lead ECG Analysis/Certification
Read ECGs Like A Cardiologist!
225+ ChalkTalks Included
New Weekly ChalkTalks
Designed to Jumpstart Your Understanding of Complex ECG Analysis
---
New for 2023: HYBRID Courses
Provides the Challenge of a Formal Course, with Quizzes and Additional Feedback
But NO passing grade... can learn Advanced Concepts without pressure!!
One time cost... No more monthly fees.
More Affordable than CE/CME course but with the same content!

Watch ECG Academy Now:
w

atch a video "ChalkTalk" now. ChalkTalks are like private COACHING sessions. They are 6 minute step-by-step lessons in approaching unknown ECG tracings. ECG Academy offers the most advanced ECG training available and every subscription includes access to a new ChalkTalk every week.
Click on the video player at right and "maximize" the image by clicking the icon in the lower right corner of the video player.
The ECG Academy Learning System
---
Video Lessons – Step By Step.
Lesson videos build a foundation of knowledge from the bottom up, and important concepts are repeated to make sure you get it! We will show you how to diagnose basic and complex arrhythmias you may find on a rhythm strip. If your goal is to read 12-lead ECGs, our physiologic approach will explain WHY the ECG looks the way it does, which helps you to remember what to look for.
Click here to watch a demo lesson.
"ChalkTalks" – Practice Your Skills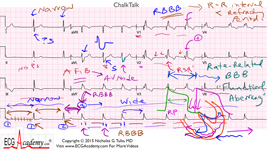 One unique part of ECG Academy are the weekly ChalkTalks, which are 6-minute video tutorials based on a real rhythm strip or 12-lead ECG. These practical "how-to" lessons help you gain confidence in applying your knowledge to an unknown tracing. If you already know the basics, ChalkTalks help you improve your skills. You will learn how to read complex ECGs that don't look like the ones in the textbook!
Click here to watch a demo ChalkTalk.
---
Another Great Review
Dr. Nick has something for every level of ECG learner.
I think you'll love his voice and teaching style as much as I do.

Nurse Beth - Columnist, Writer, Speaker for Nursecode.com
Testimonials From Real Users
---
---
---
RECENT EVENTS:
Dr. Nick Tullo was a special guest during a livestream discussion about Atrial Fibrillation, hosted by the podcaster "Great Northern Bear."
June 24, 2023
Dr. Tullo presents an overview of treatment strategies for patients with Atrial Fibrillation for STARS.ORG / Arrhythmia Alliance / AF Association. He reviews "Rate Control" versus "Rhythm Control" and discusses medical (anti-arrhythmic) therapy, pacemakers, and catheter ablation in AF patients.
NOV 24, 2020
---
---
Latest NEWS FROM ECG Academy
ECG Academy was an exhibitor at the National Organization for Nurse Practitioner Faculty (NONPF) conference on April 27–29, 2023.
2 MAY 2023
ECG Academy Was An Exhibitor at the Pennsylvania Coalition of Nurse Practitioners in Pittsburgh in October, 2019
1 NOV 2019
10 JUNE 2015
---
---
Medical Schools and Nursing / PA Schools
Are Now Using ECG Academy!
Learn how your school can use ECG Academy as part of their curriculum.
We provide your students with state of the art training and give their career a headstart.
---
Learn More About Institutional Subscriptions
---
---